We are proud to announce the 50 Canadian finalists for the second class of McCall MacBain Scholars, the country's first comprehensive leadership-based scholarship program for master's and professional studies.
The scholarship enables students to pursue a fully funded graduate degree at McGill while participating in an intensive leadership development program. McCall MacBain Scholars are matched with mentors, advisors, and coaches who accompany them on their journey.
The 50 finalists, representing 28 universities, will attend a final round of interviews from March 24 to 26. During the interviews, they will meet with leaders from academia, business, government, and the social sector. Final interviews are planned to take place in Montréal, with travel costs covered.
Nearly 700 people applied for the McCall MacBain Scholarships this year, and 146 participated in regional interviews with local leaders in November before the 50 finalists were selected. Up to 20 McCall MacBain Scholars will be chosen after final interviews.
Finalists were chosen based on their character, community engagement, leadership potential, entrepreneurial spirit, academic strength, and intellectual curiosity. They include aspiring dentists, engineers, entrepreneurs, community leaders, scientists, lawyers, policy-makers, doctors, public health specialists, and more.
"The McCall MacBain Scholarship finalists have demonstrated empathy, integrity, and courage in a rapidly changing world. While their undergraduate experiences may have differed from what they initially expected, these students have dedicated their time and talents to a wide array of initiatives. They have distinguished themselves through their commitment to meaningful social change."

Natasha Sawh, Dean of the McCall MacBain Scholarships
The McCall MacBain Scholarship covers tuition and fees for the program of study, a living stipend of $2,000 per month, mentorship, coaching, and leadership development opportunities.
Finalists who are not selected as McCall MacBain Scholars will be eligible for a $10,000 Finalist Award for their studies at McGill.
Air Canada is the official air transportation sponsor of McCall MacBain Scholarship final interviews.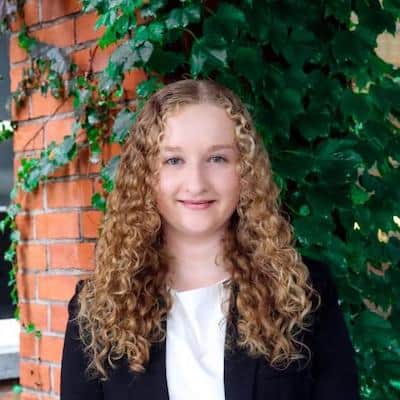 Regional Awards
The McCall MacBain Scholarships program has also offered 30 Regional Awards of $5,000 each to promising candidates who distinguished themselves at regional interviews.
Christiana Agustin, University of Toronto Scarborough (BA'20) – Scarborough, ON
Yusef Al-Molieh, University of Toronto – Victoria (BSc'22) – Oakville, ON
Lindsay Bain, University of Manitoba (BA'22) – Winnipeg, MB
Ben Bergen, Carleton University (BSc'22) – Waterloo, ON
Jordan Binotto, Simon Fraser University (BBA'17) – Vancouver, BC
Max Brant, University of Calgary (BSc'22) – Calgary, AB
Laura Chilson, Vancouver Island University (BSc'22) – Port Hardy, BC
Taylor Lynn Curtis, McGill University (BEng'22) – Peterborough, ON
Marilee Demonceaux, Polytechnique Montréal (B. Ing. 2022) – Laval, QC
Elisa Do, McMaster University (BKin'22) – Stouffville, ON
Natalia Espinel Quintero, Concordia University (BA'19), Universidad Javeriana (MA'22) – Montréal, QC
Olivia Haramis, Wilfrid Laurier University (BMus'21) – Cornwall / Waterloo, ON
Maissie Hillman, University of Alberta (BA'21) – Edmonton, AB
Aqsa Imran, University of Toronto Mississauga (BSc'22) – Oakville, ON
Eyitayo Kunle-Oladosu, McGill University (BA'22) – Brampton, ON
Maelle Le Rudulier, Simon Fraser University (BA'21) – Vancouver, BC
Emily Lints, University of Regina (BA'22) – Hamiota, MB
Aarondeep Maan, Mount Royal University (BBA'21) – Calgary, AB
Aulden Maj, University of Alberta (BA'22) – St. Albert, AB
Isabel Magsucang, Queen's University (BA'22) – Whitehorse, YT
Shani Markus, Mount Royal University (BN'21) – Calgary, AB
Fred-William Mireault, Université de Montréal (B. A. 2022) – Joliette, QC
Ashlee Morrell, University of New Brunswick (BA'22) – Saint John, NB
Calvin Scott, Western University (BScN'16) – Toronto, ON
Shaye Shahrigharahkoshan, Tehran University of Art (BA'10), Tarbiat Modares Graduate School (MArch'13), Université Laval (MD'22) – Québec, QC
Rajpreet Sidhu, University of Toronto Scarborough (BA'21) – Kitchener, ON
Ria Stevens, McGill University (BSc'22) – Los Gatos, California, USA
Mackenzie Vallee, University of Waterloo (BSc'22) – Waterdown, ON
Jeremy Zwaig, McGill University (BSc'20, MSc'22) – Montréal, QC
The scholarships are the result of a landmark $200 million gift, which at the time was the largest single donation in Canadian history, by John and Marcy McCall MacBain. The scholarship program will expand internationally over the next decade, with nearly 300 McCall MacBain Scholars selected by 2030. Applications for the first global cohort, comprising 20 Canadians and 10 international students, will open in June 2022 for September 2023 admission.
For more information:
Julia Lo, Director of Marketing & Communications
[email protected]