Who are McCall MacBain Scholars?
McCall MacBain Scholars will be selected for a combination of civic engagement, intellectual curiosity, entrepreneurial spirit, academic excellence, and exceptional character. Understanding that students with these qualities exist all over the country and the world, McCall MacBain Scholars will represent a diversity of backgrounds and bring a broad range of academic interests, cultural and geographic experiences, a strong spirit of collaboration and deep interest in learning from others.
McCall MacBain Scholars have a track record of active engagement with the issues and challenges that affect those around them, informed by a sense of duty, empathy, intellectual curiosity, tenacity, hard work and a willingness to wade into untested waters. This results in taking on tough roles, recruiting others to join in their efforts, seeing their initiatives through from initial idea to sustainable execution, and aiming to create meaningful and lasting change.
With an entrepreneurial spirit, McCall MacBain Scholars seek to avoid conventional paths and solutions and instead devise original ways of thinking about and addressing complex problems. They persist after failure, learn, grow, and innovate. Their character – their integrity, determination, honesty, work ethic, humility, empathy, and kindness – is their strong moral compass. They aspire to better themselves so that they can work, in ways large and small, for the betterment of our collective future.
Future candidates might not yet see themselves in all of these characteristics. They may need others in their lives – peers, professors, supervisors, community and business leaders – to tap them on the shoulder and encourage them to apply. The McCall MacBain Scholarships will be a place for the next generation of leaders to develop their skills and join what we envision will be a lifelong community of others committed to holding each other up to their aspirations and potential.
Through an expansive and rigorous selection process, we look for exceptional character, intellectual curiosity and depth, longstanding commitment to improving the lives of others, and the leadership potential to tackle complex challenges both local and global.
The application process will involve a comprehensive online application, references and a series of in-depth interviews to facilitate a broad understanding of candidates' background, experiences, aspirations and academic interests. This process will bring together assessors and interviewers drawn from community and business leaders, including McGill's broader community of alumni and faculty. Our Canadian and international selection committees will be made up of individuals who live the values of the award and reflect a wide range of disciplines, geographies, and life experiences.
In the first two years of the program, the McCall MacBain Scholarships will be open only to Canadian citizens, permanent residents and refugees, with up to 20 selected each year. Starting in the third year, the program will then grow to include international students, who will make up about one-third of each incoming class of 30 students selected annually. Once the program is fully underway, we expect to have up to  65 to 75 McCall MacBain Scholars on campus in a given year.
"McCall MacBain Scholars have an entrepreneurial spirit, seek to avoid conventional paths and solutions and instead devise original ways of thinking about and addressing complex problems."
Applications will open in the fall of 2020 to students with an undergraduate degree. Please subscribe below to receive updates on the opening of the applications.
Note: applicants to the McCall MacBain Scholarships must apply separately and be admitted to a master's degree or undergraduate professional degree (such as law or medicine). It is applicants' responsibility to meet all departmental deadlines and requirements for doing so.
Students applying to undergraduate professional programs, such as law or medicine, who have already completed an undergraduate university degree or equivalent, are also eligible to apply.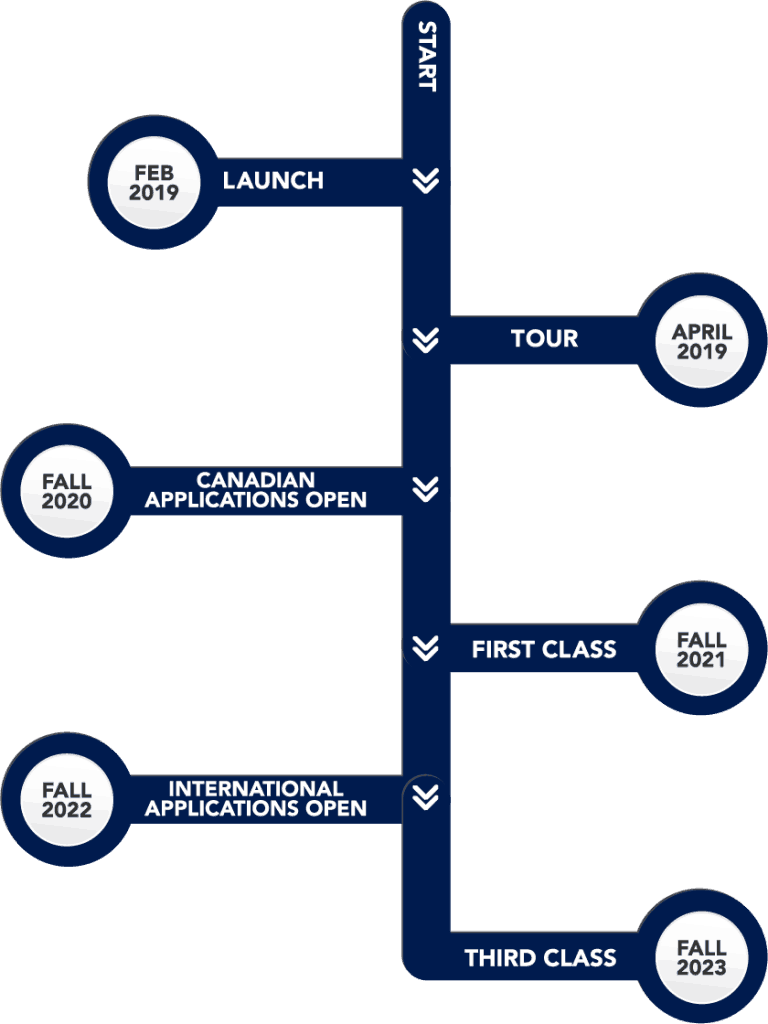 Canadian
Applications Open
International
Applications Open