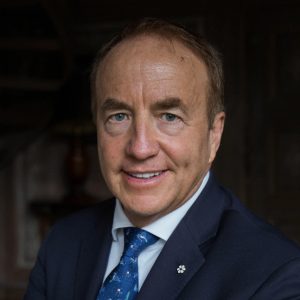 Originally from Niagara Falls, Ontario, John McCall MacBain attended McGill University on scholarship to study Economics, graduating with an Honours Bachelor of Arts degree in 1980. During his time at McGill, he was deeply involved in student life, including serving as President of the Students Society. In his final year he was named Valedictorian. Mr. McCall MacBain subsequently obtained a law degree from the University of Oxford as a Rhodes Scholar, followed by an MBA from Harvard Business School, before launching a successful entrepreneurial career as founder and controlling shareholder of Trader Classified Media.
Starting with his purchase of three small publications in Montréal, Canada in 1987 at 29 years old, Mr. McCall MacBain grew the Trader Classified Media, Auto Trader and Buy and Sell businesses worldwide with over 350 print titles and 50 internet sites in 23 countries, including France, Canada, China, Argentina, Russia, Hungary, Mexico, Italy and Spain. In the fall of 2006, he successfully sold Trader Classified Media and with the proceeds of the sale co-founded with his wife Dr. Marcy McCall MacBain the McCall MacBain Foundation and its investment arm, Pamoja Capital SA. Through Pamoja Capital, Mr. McCall MacBain is now the largest investor in student housing management in Australia and New Zealand.

In addition to serving as Chair of the McCall MacBain Foundation, Mr. McCall MacBain has been active in many philanthropic activities, including serving as Chair of the McGill Principal's International Advisory Board, and as a Trustee of the Mandela Rhodes Foundation in Cape Town. He is a Trustee Emeritus of the Rhodes Trust in Oxford, a Foundation Fellow of Wadham College Oxford and is the Founding Chair of the European Climate Foundation. For his achievements as a business leader and for his contributions to academic institutions as a philanthropist, Mr. McCall MacBain was appointed as an Officer of the Order of Canada in 2016. He is also the recipient of several honorary degrees including an honorary doctorate from McGill.