Over the course of the year, McCall MacBain Scholars come together to explore different aspects of leadership. Scholars meet every two weeks to examine a leadership challenge within a real-world context.
Since September, our inaugural cohort has tackled a range of topics from crisis communication to design thinking, innovation, networking, and more. Some of the highlights include:
In November, our scholars explored an Indigenous legal rights case with guest speaker Maggie Wente. Maggie is a partner at OKT, a member of Serpent River First Nation, and of Anishinaabe and settler lineage. She advises First Nations and regional Indigenous groups on a broad range of topics, and lately has focused much of her practice on advocating for the equality rights of Indigenous peoples.

In January, creative facilitator Nadia Chaney led a session on feedback and conflict mediation. Scholars practiced giving and receiving direct feedback in ways that demonstrate discernment and ultimately strengthen relationships. They also discussed feedback in the context of group dynamics.

On March 8, scholars studied a case of corporate partnership negotiation with Lucas Skoczkowski, Managing Partner of Red Lane Group, where he advises, invests, and leads buy-outs of business-to-business software companies. Lucas founded Redknee in 1999 and was the CEO until February 2017. He grew the software business from a four-person start-up to a 2,000-employee global business with products deployed in over 100 countries.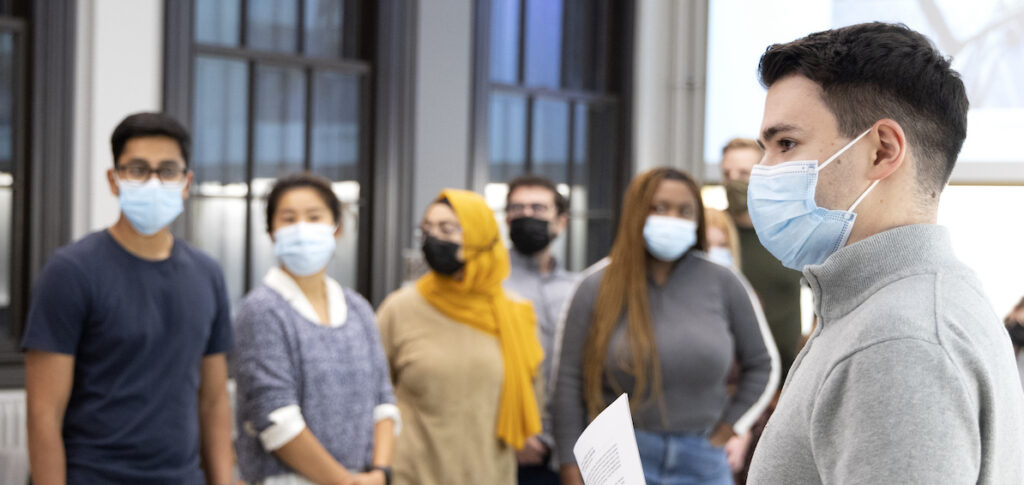 As a cohort of scholars representing five faculties, much of the learning comes from engaging with from diverse perspectives.
"We talk through the different points in the case, and come up with a solution at the end. It's been a way for me to better understand how other people approach problems, as well as the different values and ideas that they bring to the table. I didn't realize the diversity of ideas and nuances in the way that people approach problems, and I think these sessions have really helped bring that forth."

Raymond Tu, McCall MacBain Scholar and master's student in pharmacology
Each seminar begins with a leadership lab, where several scholars present their own leadership challenges and seek feedback from their peers.
"The program instills a sense of responsibility to ensure that we're using our opportunities not only to benefit ourselves, but to benefit the communities that we're a part of," says Zeytouna Suleiman, who is studying law.